The Pokemon Go phenomenon is one where average people are turning into the equivalent of Black Friday zombies, and quickly losing sight of their surroundings in the attempt to capture virtual creatures on their smartphones.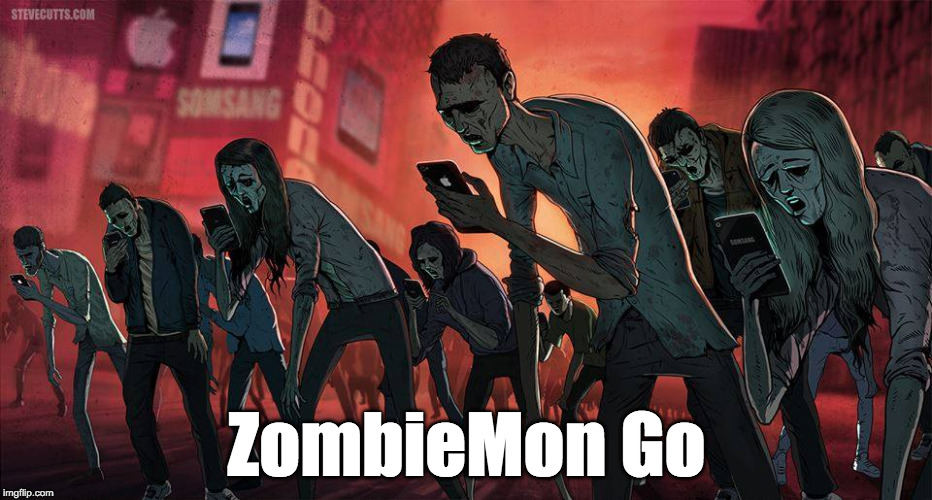 Image courtesy of Stevecutts.com
In the week or so that the game has been active, there are numerous reports of players being hit by cars on roads and freeways, being arrested for trespassing on the private and business property, and some even finding themselves molested by thieves and muggers as these incidents are just a few of the consequences that playing the game has created to put individuals in harm's way.
Eight employees in VICE's Toronto office were injured today after walking into each other while trying to catch pokemon.

— Justin Ling (@Justin_Ling) July 13, 2016
And while the game has become a global experience to millions of people, Russia is mulling over placing a ban on the Pokemon Go app due to its ability to co-opt one's Google account and personal information. But until that occurs one bank there is seeing an opportunity to monetize on the Pokemon craze, and is offering insurance for people who might find themselves injured or worse while chasing a virtual Pokemon up and down the street.
Pokémon Go players in Russia are being offered free insurance in the event of injury while using the popular app. The country's biggest bank Sberbank is giving clients 50,000 rubles (about $800) worth of cover, Kommersant daily reports.
"Given the fact that some countries have reported injuries of players who were catching Pokémon, we have developed a special product that will be free for players," said the CEO of Sberbank Life Insurance Maksim Chernin.
Compensation will depend on the severity of the client's injury. Insurance cards will be given out for free, according to the media. Pokémon Go users will just have to visit a landing page and fill in the nickname, real name, birthday, location and e-mail.
"It is also important for us that the project will improve financial literacy, as the younger generation will be able to learn about insurance instruments while playing the game,"Chernin added. - Russia Today