While China is currently in the process of trying to wrench price determination for gold from the Comex and LBMA, these futures markets still have absolute control over how the price of silver is determined in the spot markets.

And in a couple of recent podcast interviews, precious metal and bitcoin analyst Bix Weir announced that from his research he has discovered that the amount of derivatives being sold in relation to the amount of physical silver actually held in both the Comex and LBMA is close to 3000 to 1, with over 100 billion ounces being traded in 2016 for a registered inventory of only 30 million physical ounces.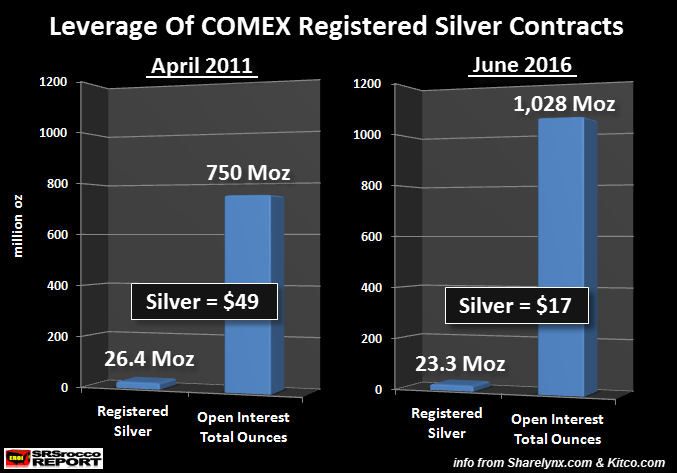 Crush the Street: I'd like to start off with your latest publication named $10,000 ounce silver if Donald Trump drains the silver swamp. $10,000 per ounce silver, not gold? And silver is sitting at around $17 per ounce... that's a pretty high price and I'd love to get the details on this analysis.
Bix Weir: It goes back to silver and the price suppression scheme that's been in place for close to 150 years... going back to the Opium Wars in the 19th century. And then it got kicked into high gear when computers were invented in the 1960's. I do alot of work on the computer rigging side of the world and that's what Roota (in Road to Roota) stands for (Root A) and was a term created by Alan Greenspan in the 1960's when he helped create the computerized banking system.
What we see in the silver price today is not a silver market anywhere in the world that trades freely. What we have in the Comex and LBMA is a market that trades electronically futures and options contracts (derivatives). The Comex and LBMA are supposed to be a physical market, but it's not, and you can tell by the volumes. Every year they 'supposedly' transfer over 100 billion ounces of silver, and there hasn't even been 100 billion of ounces of silver dug up in the history of the world. - Crush The Street
The key for this of course is when the manipulation ends, or is forced to end, it will suddenly cause a volatility spike unseen outside of a hyper-inflationary event as price discovery reverts back to a supply and demand model versus a rigged manipulated one. And this has already begun with the Deutsche Bank testimony in which they, and several other bullion banks, admitted to have been rigging the price of silver for decades.
An end to the manipulation will see silver rise in a two-fold fashion. First, the banks will need to cover their short positions that are currently active in helping to suppress the price in the derivative paper markets. And second, once the price climbs in relation to the buying OR insolvency of these banks in defaulting on their derivative positions, the reality of how small supplies really are in the silver market will cause another massive spike due to its absolutely vital requirement to support the global technology sphere.
The gold to silver ratio is hovering around 68:1 right now, and nearly all analysts see silver as more depressed in price than its yellow metal sister gold. And just as the discovery of oil made petroleum the most important global commodity for use in agriculture, industry, and energy, silver is well on its way to taking over this mantle as the world rushes forward in needing the metal for electronics, alternative energies, and all future technology to come in the 21st century.