The tale of Bitcoin and other crypto-currencies has become two-fold. First, it is a potent medium of exchange for high net worth individuals who want to transfer wealth from one currency to another. And secondly, it has functioned as originally intended in places like Venezuela and Morocco, where governments have either destroyed their own sovereign currencies through bad monetary policies, or where large outdoor markets facilitate the use of cash in the majority of their transactions.

On February 2, Venezuela's leading bitcoin exchange, SurBitcoin, was forced to suspend operations when its bank account was revoked. According to Rodrigo Souza, who runs SurBitcoin's trading platform, the bank closed the account in anticipation of a nationwide crackdown on bitcoin use in Venezuela after the police raided a warehouse with 11,000 mining computers. SurBitcoin is in talks with other banks, and hopefully it will be operating again soon.
As he predicted, SurBitcoin's closure has led to a surge in peer-to-peer trading. LocalBitcoins, a site where users connect to buy and sell bitcoins, makes its trade volume public through an API. (See the chart below.) Last week, 464 bitcoins were exchanged in Venezuela on LocalBitcoins, the equivalent of nearly $470,000 dollars based on today's price. That's close to a 50 percent increase in volume since SurBitcoin stopped operating. (LocalBitcoins' previous trading volume peak was 377 bitcoins the week of October 15, 2016, but, at the time, bitcoin was worth almost 40 percent less than it is today.) - Reason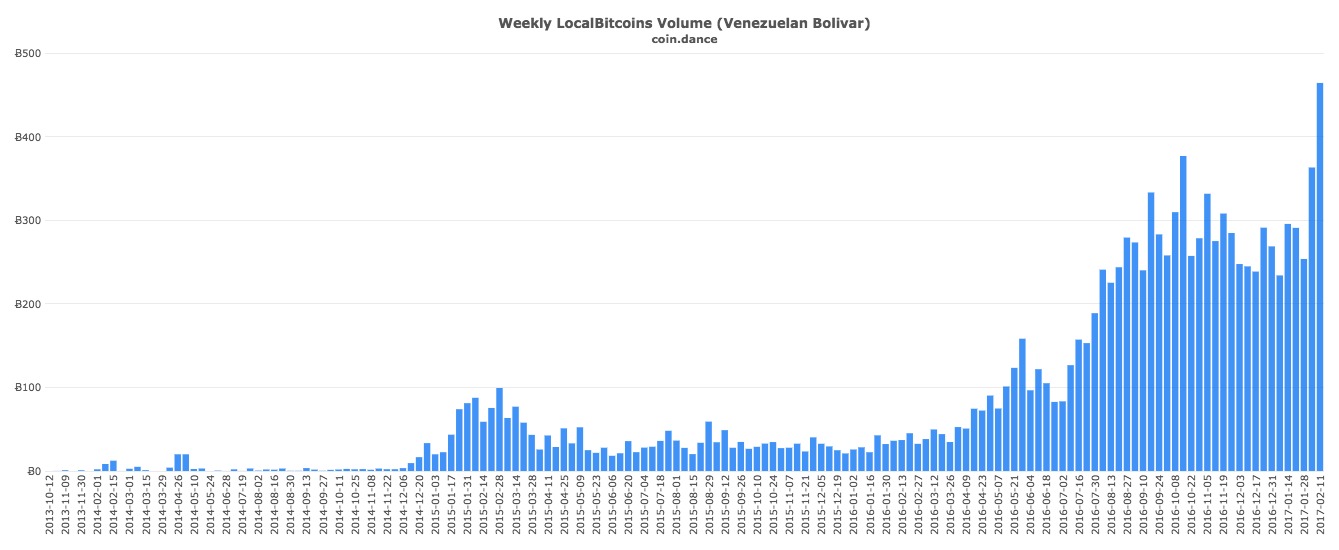 Bitcoin and other cryptocurrencies use are spreading rapidly in the Kingdom of Morocco on the blind side of the global Satoshi community. Professional crypto trader and developer, Aziz Elmi estimates that more than $200,000 of Bitcoin trading is done daily under the radar in his native Morocco.
Elmi is a leading member of the crypto community in his country with a huge following and the main developer of AtlasCoin, one of Africa's only two cryptocurrencies. He is positive Morocco has a lot to offer to the digital currency world.
Morocco's unwillingness to open up enough to the rest of the world may account for the silent revolution that is going on there. Some pundits think Morocco might be ahead of some of the countries in Africa. Morocco is perceived as leaders in Bitcoin adoption, like Kenya, Ghana and even Nigeria.
There is the general confidence in the Moroccan cryptocurrency community that there is great potential in their IT arena, especially in cryptocurrency coding and trading. This combined with the huge investments they are making will advance the Kingdom to be at the forefront of adoption in Africa, if the government will regulate the sector fairly.
"More people and merchants are gradually integrating Bitcoin and other altcoins in their daily lives by accepting payments via Bitcoin. We believe the government should, therefore, intervene accordingly so as to regulate the circulation of Bitcoin reasonably," Elmi proposed. - Coin Telegraph
Bitcoin was created as a way for individuals to function in the global financial system without having to deal with devaluing sovereign currencies, or centralized control over money by governments and central banks. And in the end crypto-currencies like Bitcoin and others will flourish more in most non-G20 economies, and most likely could have aided individuals in places like Cyprus and Greece when their own banking systems and economies collapsed over the past seven years.