Although it's been talked about before from a social and behavioral perspective, the gains earned by women through the Feminist movement over the past 50 years have also created a shift in masculine priorities that could actually lead to economic destruction in many Western countries.

How so you might ask?

Today's current debt based economic system that reigns in the U.S., Europe, and in Japan requires two very important activities to remain solvent, and keep their economies from collapsing. First, the system needs to continuously create new debt just to sustain the already massive debt load that is 3.5 times the world's annual GDP, and with this debt try to avoid the consequence of deflation in asset prices. And it was for this reason that the central banks implemented Quantitative Easing and Zero percent interest rates through which they could create a continuous inflow of newly created money that would keep asset prices high, even if doing so created bubbles and artificial prices.

Secondly these economies need consumers to spend as much money as possible, including using debt to aid in keeping the debt creation scheme going. In fact, any slowdown in consumer spending would automatically trigger a deflationary spiral, and bankrupt the system similar to what happened in 2008 (liquidity and credit crisis).

So with this in mind how does feminism, and its growing consequence of MGTOW in the U.S. and Europe and Grass Eaters in Japan, have the potential to destroy Western economic systems? By undermining, and in some cases even eliminating the very complex that supports, sustains, and feeds that system.

Marriage and family.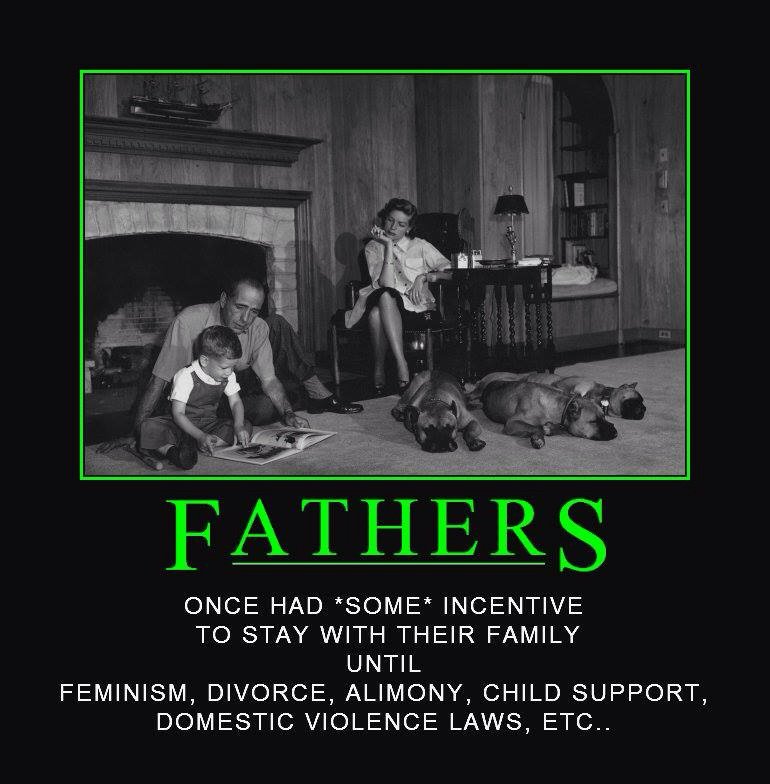 Besides the obvious that the generation of millennials are buying fewer and fewer homes, cars, etc..., and taking fewer and fewer relationships all the way to marriage, they are also having fewer children, making it a trifecta of negative consequences for Western economies.
So how does feminism come into this?
Feminism, and the government's supporting of this movement through the education systems, legislative systems, and judicial systems, have made marriage a completely unfair and economically unviable contract for men to enter into. In fact, with close to 60% of all marriages ending in divorce, and 70% of those being initiated by women, the cost of entering into the institution of marriage is a losing proposition for the majority of men.
Thus we are seeing the rise of the Grass Eaters and the MGTOW's (Men Going Their Own Way) as a consequence of 50 years of the pendulum shifting way to far away from the old model of patriarchy, to now that of gyno-centrism.
But this doesn't explain yet why the decline of marriage and children in the West has the potential of destroying their economic systems. It does however when you take a look at how much is put into that system by married families versus single individuals.
Men more often buy homes in accordance with having to support a wife and children, and they also work more hours at a job in pursuit of this financial support. But in Japan today for example, the phenomenon of Grass Eating (men not marrying) has given rise to many of them actually working less, and dedicating their earnings to self-aggrandizement in the form of fashion, video games, and alternative forms of entertainment.
Something is happening to Japan's young men. Compared with the generation that came before, they are less optimistic, less ambitious and less willing to take risks. They are less likely to own a car, want a car, or drive fast if they get a car. They are less likely to pursue sex on the first date - or the third. They are, in general, less likely to spend money. - Washington Post
This trend is also being felt in the investment world, where fewer and fewer men are
investing in 401K plans and other retirement vehicles
.
The destruction of the family and marriage is also destroying the traditions normally performed as one progresses through life. Without the need to purchase a home, to pay the costs of having children, and the fact that men no longer have to strive to be a bread winner in a household, money normally spent as a consumer is being used elsewhere, and without the need to go deeply in debt.
While this social and financial trend has not yet reached the point where it has created a 'vergence in the force' here in America or in Europe, it is already being highly felt over in Japan where there is not enough revenues being created to pay for the needs of the retiring generation there that are living on social security, investments, and in pensions. And that will change here very soon as Baby Boomers are forced to have to sell off their assets to pay the taxman, with very few or no buyers to mop them up in the markets.
The nuclear family has throughout history been the core and most important institution for any given society and economy. And with this now having been fundamentally changed almost in parallel to Western nations going to a debt based fiat economy since the early 1970's, the advent of Grass Eaters and Men Going Their Own Way because of the black swan consequence of feminism could be the catalyst to not only trigger the next financial crisis, but even to bring about a collapse of the entire system.