When Social Security was first introduced in 1935, it was sold to the American public as form of retirement insurance that was based similarly to that of private insurance policies. Ie... you put in a certain amount each pay period and at age 62 or higher, you can begin to collect the proceeds of your 'policy'.

But the reality is that Social Security is little more than a ponzi scheme, and a way for the government to siphon out wealth from its citizens. In fact, a Supreme Court ruling in the 1960's specifically labeled the program a benefit rather than insurance, and the government has no legal mandate to pay these benefits to individuals who contributed to the program.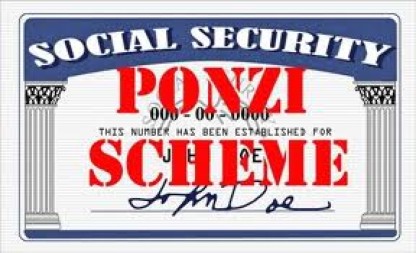 Many people believe that Social Security is an "earned right." That is, they think that because they have paid Social Security taxes, they are entitled to receive Social Security benefits. The government encourages that belief by referring to Social Security taxes as "contributions," as in the Federal Insurance Contribution Act. However, in the 1960 case of Fleming v. Nestor, the U.S. Supreme Court ruled that workers have no legally binding contractual rights to their Social Security benefits, and that those benefits can be cut or even eliminated at any time. - Cato Institute
Over time the government has used Social Security as a political carrot, where in the attempt to get re-elected, politicians in 1956 expanded the program to include the disabled and began using monies set aside in the Trust Fund for retirees to pay for it.
Today Social Security is completely bankrupt and insolvent, and if anyone needs proof of this all they have to do is go back to the words of the Secretary of the Treasury Jack Lew who inferred that if Congress didn't pass a new budget and halt a potential government shutdown, then the
ability to pay Social Security recipients would be at risk
(despite the fact they were still collecting FICA taxes).
Now in 2017, and in a desperate attempt to keep their ponzi scheme going a few more years, Congress is increasing the income level that is taxed by FICA from $118,500 to $127,200. However, this increase will do little to help the program since the total amount of revenues received from this increase will be minimal. But what it does is provide the public the illusion that the government is going after the 'rich' to make them pay more, or at least their 'fair share'.
Prior to the advent of Social Security, people were expected to provide for their own retirements and did so through frugality, sound investment, and reliance upon a currency that would not be devalued much over their lifetimes. But since none of these things are a part of the American culture today, hundreds of millions of people who barely have $1000 in savings to their name will find it impossible to survive when Social Security finally fails, and all that money they put into the scheme will be for not.