The gold price crossed an important psychological barrier in early morning trading on Jan. 12 that places the metal at a crossroads to either move extremely higher, or fall back if it fails to hold the key resistance level.

On Thursday gold went above $1200 for the first time since its severe beatdown following the November Presidential elections when bullion banks dumped so many naked shorts into the futures market that it was the equivalent of three years worth of mine production. This led to gold falling below its 50, 100, and even 200 day moving averages until it settled at a bottom of around $1125.

Since then however, it has begun a steady climb back to $1200, aided by investors covering numerous amounts of short positions that in some cases went back to bad bets made during the time of the Brexit vote.

However now that it has breached its new 50 day moving average, it will take on some strong resistance that should it succeed in holding this price, will assuredly move much much higher as loss of confidence in global currencies will aid in the move once again towards gold.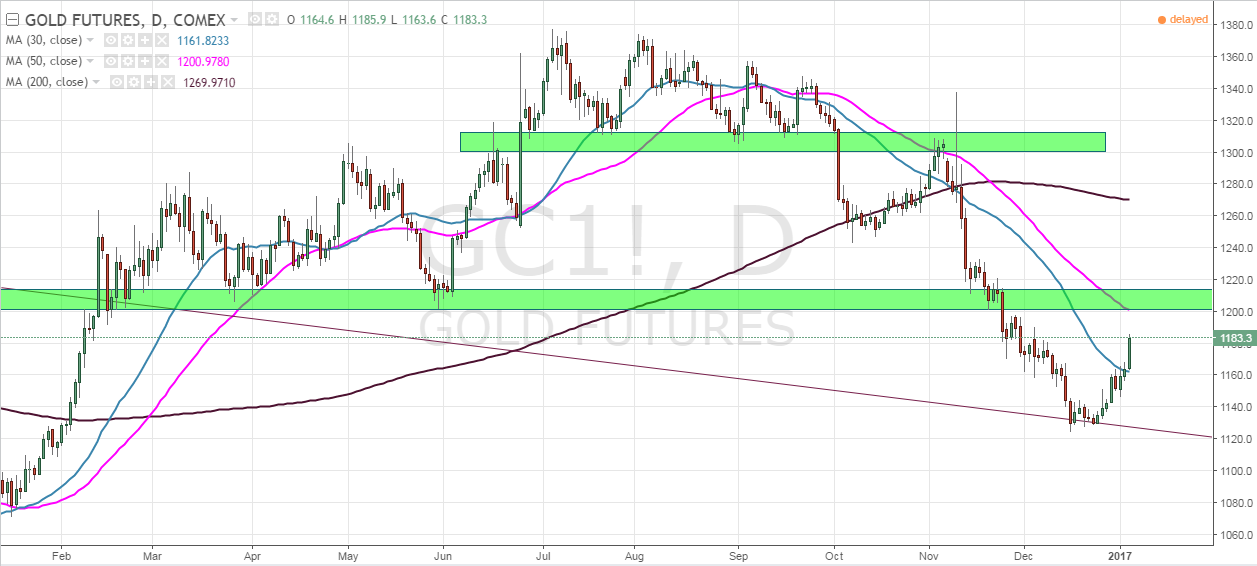 As one can see from the daily gold futures price chart below, it breached the 30-day SMA of $1,161.82 with a strong bullish candle. The commodity will now face stiff resistance from expected selling pressure near $1,200, which earlier acted as a crucial support. Calls of $1,200 as support are still etched in my mind, but probably too much faith was put into that. The 50-day simple moving average of $1,200.98 will pose additional stress on the commodity. But I am optimistic, and with adequate time and patience, the metal can cross this bear's mansion as well. - Seeking Alpha