For those who believe in the power of physical gold, either as a trader, investor, or as insurance for a devaluing currency, they must always remember that the battle over price will be a waged more as a long duration war rather than as a single battle for control. And since the gold price reached its all-time high of $1940 back in 2011, this war to suppress the gold price continues well into its 5th year.

Since the beginning of 2016, gold has not only been the best performing asset in the markets, but it has experienced a paradigm shift where investors and money managers who discredited gold six months ago are now fully into its camp and are fighting to accumulate the metal in an environment of every shrinking supplies.

This of course should have created the catalyst for a huge boom in the gold price if the markets were equitable and fair. But since gold is far more than just a valuable asset, and is also the barometer for each nation's currency, protection of the dollar as what is at the heart of this war to suppress the gold price, and it appears now that the powers that be are pulling out all the stops.

On Friday June 17, the Commitment of Traders Report (COT) came out and showed that the bullion banks are now shorting the Comex (Commodities Exchange - where the gold price is set) with a record number of naked short contracts meant to keep the price of gold from reaching, breaking through, and closing over $1300 per ounce.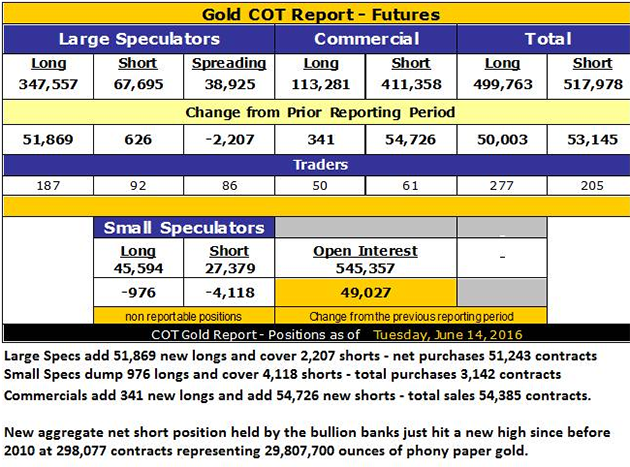 With Friday's Commitment of Traders Report, the ridiculous has just metastasized into the sublime as the Commercial Cretins have just gone "over the top" and added another 5.4M "ounces" to their synthetic gold short position.
At 298,077 contracts declared short, they are now carrying the largest short position in Crimex history.
The scary part is that these figures don't include the big rise in open interest yesterday and you just KNOW that it ballooned out due to more Cartel shorting. - Silver Doctors
Geo-political events, along with economic and financial ones, will cause the price of gold to be extremely volatile over the rest of 2016, and well into 2017. But know that not only is the Bull Market confirmed by most analysts and technical charts, the end game for gold will soon be a breakthrough from its previous all-time highs, and a boon to all those with the patience and stomach to stay the course in their trust in the power of gold.